SOLAR BOLLARD LIGHTING SBL SERIES HEAVY DUTY VANDAL RESISTANT OUTDOOR COMMERCIAL SOLAR BOLLARD LED POLE TOP LIGHTS
Made in Australia and with over 8 years proven solar bollard lighting design history.
Don't take chances on cheaper products that have been around for 5mins unproven in the market operationally or designed to run for 8-10 hours per day. So only use the original and the best tried and tested product made for the diverse Australian and international climates.
---
Welcome to Solar Bollard Lighting home of the new SBL Series Outdoor Commercial Solar Bollards made right here in Australia and exported globally. With all new upgrades to the original series we decided it was time to have a new model name for the 2015 solar bollard lighting range.
With 8 years of actual market presence with our solar LED bollard system design operating in many global locations over this time we have the only proven product in the market place today as all the other competitor products have not or only been around for a couple of years. Solar Bollard Lighting are part of Australia's leading "Solar Bollard Light" technology company Key Logic Pty Ltd, who has been designing and developing there solar pole top light products since 2003, and designing the worlds No.1 Solar Bollard Registered Design No. 332890 compared to any other commercial solar bollards available.
SBL075A-828GPA Turtle Friendly Solar Bollards with Flange Plate base plate at Royal Queensland Yacht Squadron Manly QLD supplied by Air Solar Bundy
---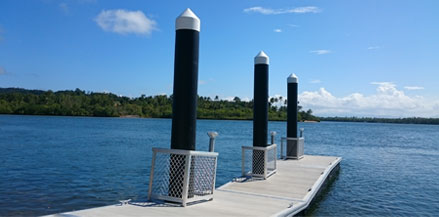 Google's YouTube Campus SBL Series HR Model - San Bruno, California USA ----- TMR Pontoon by Pacific Pontoon & Pier - Innisfail QLD & Air Solar Bundy
---
Standard Solar Bollard
4 Power Variant Models Available

Extreme Vandal Resistance

840mm and 1140mm Pole Options
SR Solar Bollard
Stainless Steel Reflector

4 Power Variant Models Available

840mm and 1140mm Pole Options
---
Retirement Village install in Western Australia by Solar Lighting Solutions WA and 10 x SBL210SW-1140GPA used at the Advancetown Caravan Park Qld
---
At Solar Bollard Lighting we focus on specific solar lighting requirements within the public lighting and infrastructure sectors with our SBL Series Solar Bollard for some of the following application examples:
| | | |
| --- | --- | --- |
| Solar Pathway Lighting | Solar Walkway Lighting | Solar Driveway Lighting |
| Solar Pontoon Lighting | Solar Jetty Lighting | Solar Gantry Lighting |
| Solar Marina Lighting | Solar Landscape Lighting | Solar Perimeter Security Lighting |
| Solar Play Ground Lighting | Solar Entry Delineator Lighting | Solar Pole Top Lighting |
| Solar Emergency Lighting | Solar Stairway Lighting | Solar Street Lighting |
Solar Bollard Lighting's SBL Series Solar LED Bollard top dome design tries to ensure birds cannot utilise the solar bollard as a resting point like all other competitor products as there is no flat surface or edge for them to grip on to. Having birds rest or nest on top of a solar bollard reduces dramatically the amount of irradiation into the solar module thus reducing recharge capabilities and imminent failure especially around costal communities. This also eliminates the need for bird spikes and any harm to wildlife.
---
LIGHT HEAD OPTIONS FOR VARIOUS LIGHT DISTRIBUTION

---
These types of solar lighting products around the world are know by various names such as:
| | | |
| --- | --- | --- |
| solar bollard | solar pole top lights | solar led bollard lights |
| solar garden lights | outdoor solar lights | solar powered bollard light |
| bollard solar lights | solar powered outdoor LED light | commercial solar light |
| solar way finding light | solar delineator light | solar bollard lights |
within many countries like Australia, United Kingdom, New Zealand, United States of America, Canada, Mexico, Brazil, Chile, Columbia, United Arab Emirates, Saudi Arabia, Oman, Qatar, Iraq, Turkey, Egypt, France, Italy, Denmark, Sweden, Spain, Germany, Cyprus, South Africa, West Africa, Malaysia, Singapore, Japan, Hong Kong and Russia as some examples.
---
Impact Test Video of SBL SERIES Solar Bollard

formerly EXSB Series
We know our SBL Series Solar Bollard Range Performance Capabilities
Solar Bollard Lighting's world renowned Vandal Resistant and Maintenance Free SBL Series Solar Bollards with a real 5 year 100% replacement warranty are proven to operate in the harshest and most diverse conditions from:
Alberta Canada where 2 of our model sizes the SBL75 and SBL120 run daily mid-winter for up to 16.93 hours per night in subzero temperatures, then being snow covered until 10am each day without dimming or failing. Our SBL75 has the capability of up to 19 hour nightly runtimes with minimal solar requirement for recharge.

Around Australian and other global sea front communities in heavy salt environments where our mid-range SBL150 and SBL120 units are mostly utilised

The very hot climates of Dubai UAE and Central Australia's harsh mining sector with 50oC days where our most powerful unit the SBL210 is utilised.
At Solar Bollard Lighting we focus on specific solar bollard lighting requirements within the public lighting and infrastructure sectors, heavily focusing on our SBL Series Solar Bollard which was initially designed in 2005.
All solar bollard design, assembly and most component manufacturing is carried out by experienced local Queensland manufacturers giving us the versatility to immediately adapt to the ever changing market requirements for both solar bollards as they occur. Buying "Australian Owned " solar bollards lighting ensures quality designed and manufactured products especially with our leading SBL Series Solar Bollard Lighting range..
Even our Aluminium poles are made right here in Australia. They are extruded in Newcastle then transported to Brisbane where they are cut, drilled and then anodised or powder coated to your requirement. We support as many local manufacturers as possible for our outsourcing.
At Solar Bollard Lighting, we are extremely diverse in our technologies focusing heavily on our SBL Series Solar Bollard Range for the public and private infrastructure sectors for all other solar lighting requirements as well whilst boasting international and Australian clients who have used our SBL Series Solar Bollard range such as the Australian Defence Force, Queensland's Department of Transport and Main Roads, QR, Leightons, Thiess, Xstrata, BHP, and Rio Tinto to name a small few.
---
For Wholesale, Trade and Retail enquiries within Australia Only.