SOLAR BOLLARD SBL SERIES STANDARD MODEL SOLAR PATHWAY LIGHT
Registered Design No. 332890 since June 2010
THE "ORIGINAL" VANDAL RESISTANT EMC COMPLIANT LED BOLLARD SOLAR LIGHT certified Australian Made & Owned with over 11 years proven global design history using 100% Australian Made aluminium poles
Solar Bollard Lighting's Australian Made in Queensland Vandal Resistant and Maintenance Free SBL Series standard model is the "ORIGINAL" Outdoor Solar LED Pole Top Bollard Commercial light that works continuously anywhere with various power models up to 18 hours per night to ensure 365 days of full power dusk until dawn operation. Proving over its long to market history is the No.1 ORIGINAL commercial grade vandal resistant solar bollard, solar pathway light or solar garden light available for use on solar path lighting, solar jetty lighting, solar pontoon lighting, solar landscape lighting, solar garden lighting, and so many other solar lighting applications with a 5 year Australian manufacturer backed proven warranty including battery by our company started and registered in October 2003 with first model generation to market in December 2005.
PROJECT - SBL150SW-828GPA - Our Solar Bollards taking an ocean front swim daily
---
LATEST EXPORT PROJECT - SBL150SW-1140IAPC - 170 units installed in Kobe Japan June 2016 Stage 1 of project
From vandal attack, monsoonal rain, crashing waves, cricket ball size hail or daily snow coverage, no similar product can out perform our SBL Series Solar LED Bollard light design for durability or performance. Our PCB circuit design which is the main operational brain of these types of sealed devices, has been fully operationally tested in the field for 10 years now since January 2006. This shows SBL has the only proven and market tested product available to "CONFIDENTLY STATE" a minimum of 10 years operational life expectancy as a fact and not just a sales marketing assumption as used be other competitor products who have not been around for anywhere near this time.
At Solar Bollard Lighting we focus on specific solar lighting requirements within the public lighting and infrastructure sectors with our SBL Series Solar Bollard for some of the following application examples:
Solar Pathway Lighting
Solar Pontoon Lighting
Solar Marina Lighting
Solar Play Ground Lighting
Solar Emergency Lighting
Solar Walkway Lighting
Solar Jetty Lighting
Solar Landscape Lighting
Solar Entry Delineation Lighting
Solar Stairway Lighting
Solar Driveway Lighting
Solar Garden Lighting
Solar Perimeter Security Lighting
Solar Pole Top Lighting
Solar Street Lighting
Solar Bollard Lighting's SBL Series Solar LED Bollard top dome design tries to ensure birds cannot utilise the solar bollard as a resting point like other competitor products as there is no flat surface or edge for them to grip on to. Having birds rest or nest on top of a solar bollard reduces dramatically the amount of irradiation into the solar module thus reducing recharge capabilities and imminent failure especially around coastal communities. This also eliminates the need for bird spikes and any harm to wildlife.
Testimonial by Town of Port Hedland of SBL210SW-1140IA:
We are very happy with the bollards, they suit the required use and are going to be a great asset to us for a long time. The tenants that we have put in the adjacent houses (general practitioners) have not been shy in the past with airing any complaints they have but I haven't heard one complaint regarding the light bollards. That to me is a great accomplishment!
SBL210SW-1140IA at Town of Port Hedland Western, Australia
We know our SBL Series Solar Bollard Range Performance Capabilities
Solar Bollard Lighting's world renowned Vandal Resistant and Maintenance Free SBL Series Solar LED Bollards with a real 5 year warranty are proven to operate in the harshest and most diverse conditions from:
Alberta Canada where 2 of our model sizes the SBL75 and SBL120 run daily mid-winter for up to 16.93 hours per night in subzero temperatures, then being snow covered until 10am each day without dimming or failing. Our SBL75 has the capability of up to 19 hour nightly run times with minimal solar requirement for recharge.

Around Australian and other global sea front communities in heavy salt environments where our mid-range SBL150 and SBL120 units are mostly utilised

The very hot climates of Dubai UAE and Central Australia's harsh mining sector with 50oC days where our most powerful unit the SBL210 is utilised.
These types of solar lighting products around the world are known by various names such as
solar bollard
solar garden lights
bollard solar lights
solar way finding lights
solar pole top lights
outdoor solar lights
solar powered outdoor LED light
solar pathway light
solar led bollard lights
solar powered bollard light
commercial solar light
solar bollard lights
within many countries like Australia, United Kingdom, New Zealand, United States of America, Canada, Japan, Mexico, Brazil, Chile, Columbia, United Arab Emirates, Saudi Arabia, Oman, Qatar, Iraq, Turkey, Egypt, France, Italy, Denmark, Sweden, Spain, Germany, Cyprus, South Africa, Malaysia, Singapore, Hong Kong and Russia as some examples.
24 x Pathway Solar Pole Top LED Bollard Lights at Jacobs Well Environmental Education Centre Queensland Australia
Pathway and water fountain lighting around playground area using 18 x SBL150SW-1140IA at Brookwater Estates
Retirement Village Driveway and Path Lighting Western Aust - SBL150SW-REPLAS beach front at Green Hills Estate by Solar G
Solar Bollard Pontoon Townsville Boat Park Bellingham Marine - Solar Bollard Pontoon Innisfail Queensland
Armadale Hospital WA Solar LED Bollard lights on recycled plastic poles - Solar LED Pole Top Bollard Lights Driveway Lights
Solar LED Bollard Pole Top Gate Entry Lighting Rural Qld Property Turtle Friendly Solar LED Bollards at RQYS Manly QLD by ASB
International Images
UAE -
UAE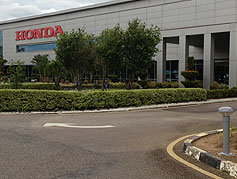 Malaysia - Day
Malaysia - Night
Domestic Images
Proserpine QLD - Bellingham Marine
BHP - Nickel West Mount Keith
Rio Tinto Pilbara Western Australia
Queensland Gate Entry
Domestic Images
SA Water Desalination Plant South Australia
SA Water Desalination Plant South Australia
Mindarie - Western Australia
Greenwell Point - Shoalhaven Council NSW